On 3rd June, 2020, the Board and Management of the National Commission for Science and Technology (NCST) joined the Government of Malawi in fighting against COVID-19. The Commission donated Personal Protective Equipment (PPE) worth K 5,000,000.00 to Salima District Hospital in a bid to compliment Government's efforts to contain the COVID-19 pandemic. The donation is part of the Commission's social responsibility. Other than fulfilling its mandate, the Commission appreciates that it has an obligation to support the community by responding to issues that impact the nation.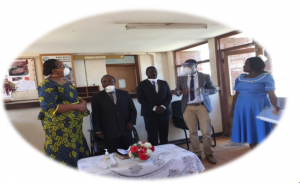 Speaking during the handover ceremony which took place at Salima District Hospital, the Commission's Board Chairperson, Professor Moses Kwapata admitted that COVID -19 is a global pandemic which is affecting  all sectors of the economy including education, tourism, employment, social services and productivity in general; citing the World Health Organization's (WHO) current statistics on the number of confirmed cases and deaths world–wide. Professor Kwapata pointed out that there is need to strengthen the countries health systems and intensify public awareness and therefore appealed to various organizations to join the Government in extending support and providing necessary resources to contain COVID-19 in Malawi.
The donated items included:
N95 Face Masks
Reusable Face Shields
Disposable Head Covers
Liquid Hand washing soap
Heavy duty aprons
Heavy duty gloves
Gumboots
The Salima District Director of Health and Social Services, Dr. Vetor Chise commended NCST's gesture and commitment in fighting against COVID-19. Dr. Chise mentioned that the items will equip front line health worker to protect themselves thereby preventing the spread of COVID-19 to their families as well as the community. Dr. Chise further mentioned that the donation will ease the burden on the hospital and therefore the hospital will be able to allocate its limited funds to other COVID-19 awareness and preventive activities other than procuring PPEs. Dr. Chise encouraged NCST and other stakeholders to continue supporting the hospital as well as other hospitals in Malawi. He also appealed to the stakeholders to support innovators in science and technology to come up with sustainable ways of containing the pandemic.