SALUTATION
Dr Margaret Karembu from ISAAA in Kenya

Distinguished facilitators to this workshop,
Our participants from the Press
Ladies and Gentlemen
I join the MC and the previous speakers in welcoming you all to this long overdue training workshop for the media on effective biotechnology and biosafety communication.
Let me start by welcoming you all who have travelled from far and wide to be here. Let me extend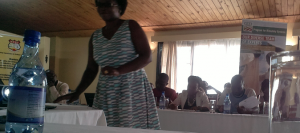 a special welcome to Dr Margaret Karembu and Paul Chege who have travelled from Nairobi, Kenya to be with us at this workshop. Please feel welcome to Malawi and enjoy the cool breeze of the lake.
The National Commission for Science and Technology is very pleased to be associated with this workshop and to interface with the journalist on matters relating to Biotechnology and biosafety developments in the country.
Going through the objectives of this workshop I cannot agree more on the importance and timeliness of this workshop. The objectives of this workshop fall clearly within the framework of operations of the National Commission for Science and Technology.
Genetic engineering is a wonderful technology that has brought answers to a number of fields including medicine and agriculture. Malawi, being an agricultural dependent country, should be interested in biotechnology for a number of reasons.
Biotechnology can help Malawi to speedily attain food security and create wealth for the nation so as to achieve socio economic development as specified in the Malawi Growth and Development Strategy (MGDS). Biotechnology can play a big role towards transforming Malawi from being a predominantly importing and consuming economy to a producing and exporting economy.
To show its commitment, to this issue, Government of Malawi has put together the National Biotechnology and Biosafety policy which expresses the Government's desire to develop biotechnology capacity to increase agricultural productivity, improve human health and nutritional well-being; conserve biodiversity, natural resources and the environment and subsequently to create wealth through commercialisation and trade in products and services derived from biotechnology innovations.
Biotechnology issues are indeed at the heart of NCST as enshrined in the Science and Technology Act No.16 of 2003. While it is generally advisory to Government and all stakeholders on matters of research, science and technology in order to achieve a science and technology led development, the Commission's specific mission is to promote, support, co-ordinate and regulate the development and application of research, science, technology and innovation in order to create wealth and improve the quality of life.
As such NCST is pleased to have been part of the process that has gone all the way up to have the first GM crop tried in Malawi.
Now coming to the issue for this training-workshop, it is very clear the media is a very useful force in every society as they initiate debate and set the agenda on very important issues. It is therefore very important that the media have to get the correct information themselves before they take the message out to the masses.
Good journalism is founded on balance and fairness when presenting views. This means presenting several sides of a story or points of view to help readers gain a more comprehensive perspective on a topic. Without balance, news can be skewed to a particular point of view. Issues surrounding genetically modified crops have created a lot of controversy and have resulted into pro- and anti-GMO perspectives. I have hope in you that you will turn the public attention to empirical evidence and turn them away from fear and rumor mongering.
We have seen a lot of unnecessary fears created among the population because the media misinformed them. Apart from being deliberately sensational, most times it has been because the media themselves do not have the correct information on the subject matter.
Therefore, to avoid further misinformation we decided that as we move up on the ladder with biotech crops, it is pertinent to bring together a few members of the media to sensitize them on the progress of biotechnology in the country and to make you aware of the biosafety measures that the government of Malawi has put in place to ensure that the uptake of this technology will be according to the internationally agreed standards. We also wanted to give you an opportunity for a free and open dialogue on GMO developments in the country with the experts. The cream on the cake is the fact that we have experts in the field with us here in this room and whatever questions you have, will be answered. I would urge you to make use of the science experts we have in this room to understand this technology further. We are also privileged to have Dr Margaret Karembu who has done a lot of work in the field of biotechnology and biosafety communication, please learn from her communications expertise.
It is a pity that due to financial constraints we could not have more people from the press.  We originally planned to train 30 of you considering the many media houses that we have in the country. We could not afford to get representation from every media house and this shows you how much responsibility has now been placed on your shoulders. You are the very few that have been given this privilege and we will be expecting too much from you. We expect, from today, that our media outlets will bring out the correct information on Genetic engineering of crops generally and specific to the progress that Malawi is making. We expect you who are in this room to be our mouthpiece as you can reach where we cannot.  We expect you to show show journalistic integrity without loss of balanced journalism.
We expect you to come to the NCST and to LUANAR to ask on the progress, to be at par with the current goings on in the field. It will be a pity if all that Malawians will hear is the fact that there was a training workshop here, we expect you to give them the correct information on this very misunderstood issue. Give them information on the progress and take them along. We will also do our part by giving you timely information and let me promise you that once the crops are in the field, we will take you along to experience them in the field.
As I conclude let me take this opportunity to sincerely thank our partners who have made it possible for us to have this training through the provision of funds, advice and expertise. The International Service for the Acquisition of Agribiotech Applications (ISAAA) and the Programme for Biosafety Systems (PBS). Dr Margaret Karembu please know that we are very grateful that ISAAA could make this happen for us.
Let me sincerely thank our local experts who have made this workshop possible. Experts from LUANAR-Bunda College, BioEROC, Makoka Research, the media consultant, the CDT, the EAD and my colleagues from NCST. I hope I have not missed any of the facilitators.
Again, let me welcome the participants from the press and to excite you to a wonderful two days of exploration, understanding and lots of engagement.
I wish all of us present here a fruitful two days and wish you well.
Let me at this point in time declare the training workshop officially open.
Thank you all for listening and for your attention.