The National Commission for Science and Technology (NCST) has awarded two Dissertation Grants to Mrs Jacqueline Kazembe and Mr Kent Mphepo. The two are getting grants to the tune of MK1.2 million and MK1 million respectively to help support their research work.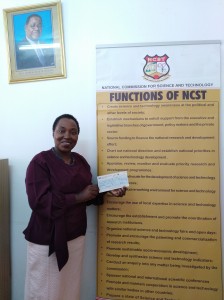 Officially handing over the cheque to Mrs Kazembe on Monday 9th June, 2019, NCST Research Officer, Ms Yalonda Mwanza said the grant plays a very important role in creating an environment where people can do research or disseminate the findings of their research.
"As a Science Granting Council (SGC), NCST is mandated to assist potential researchers and people who have actually done research to successfully carry out their study as well if they want to disseminate their information locally or internationally.
As one of the programmes being run by NCST the Small Grants Scheme has various categories like Dissertation Grant, Travel Grant and Research and Dissemination grant (General Events Grant, Production of Journals Grant, ICT Equipment Grant and Technology Transfer and Commercialisation Grant). It's a once off grant that anyone who qualifies can apply as an individual or a group. It runs in line with the government fiscal year from 1st July to 30 June," she said.
Speaking to Mrs Kazembe after the presentation ceremony, she expressed her gratitude towards NCST for being considered for the grant.
"I am really happy to receive this grant as it will go a long way because I really needed it to cover the costs for my lab work at the University I am registered. This money will go towards a research course for genetic analysis of Catfish tissue samples that I collected here in Malawi," she said.
Mrs Kazembe is pursuing a PhD in Aquaculture at Stellenbosch University in South Africa. Her research topic is; Molecular characterisation and walk back selection of the Sharptooth Catfish Clarias gariepinus: implications for aquaculture development in Malawi. She works at Ministry of Agriculture and Irrigation and Water Development.
Mr Kent Mphepo is pursuing a PhD at Malawi College of Medicine in Blantyre. His research title is; A Cultural understanding of Voluntary Medical Male Circumcision (VMMC) among men, women and youth and it's implications on Social and Behaviour Change Communication (SBCC) in Malawi. He works at Story Workshop.