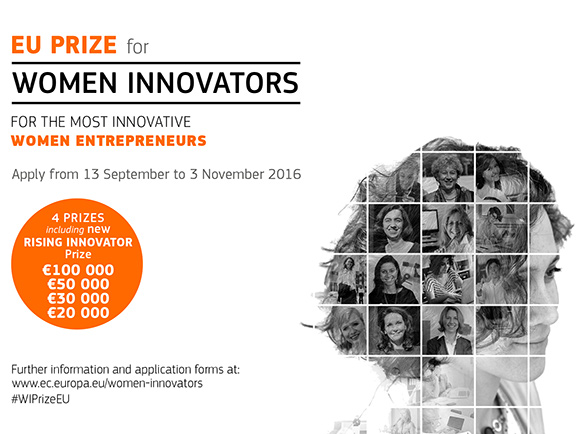 EU Prize for Women Innovators open until 3 November 2016!
The European Commission runs the fourth edition of the EU Prize for Women Innovators to reward women who have achieved outstanding innovations and brought them to market. The prize aims to raise awareness of the need for more female entrepreneurs and to inspire other women to follow in their footsteps.
This year's edition is open to women of any nationality living in MS and AC that have founded or co-founded a company with a turnover of at least €100,000. To spotlight a new generation, the 2017 edition also features a Rising Innovator category for female entrepreneurs aged 30 years or under!
The first prize is worth €100 000, the second prize €50 000, third prize €30 000 and the Rising Innovator €20 000.
You may download a promotional postcard and two slides for power point presentation here. More information on the awards can be found on our websitewww.ec.europa.eu/women-innovators.
You may also write to
European Commission
DG Research & Innovation

Open Innovation Unit
B-1049 Brussels/Belgium