On 11th July, 2019, National Commission for Science and Technology (NCST) hosted a Bioenergy workshop which took place at Golden Peacock Hotel in Lilongwe and was organised by Lancaster University.
Bioenergy is a form of renewable energy that is made from waste materials. The one day workshop discussed production of organic fertilizer from human, agricultural and food waste; Anaerobic Digestion (AD) systems and technologies; understanding the driving and challenging factors related to the adoption of bioenergy and AD in Malawi and how they can be resolved.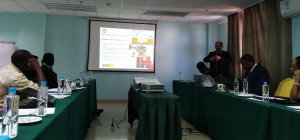 Malawi faces overwhelming pressure on natural resources, in particular forests as a source of firewood/charcoal and land for farming. This has led to deforestation and land degradation. Farmers can benefit from bioenergy, as organic residues from the process can improve soil fertility, uptake of nutrients in crops and lead to increased productivity as a suitable alternative to inorganic fertiliser. Another by product that can be derived from bioenergy is biogas which can be used to generate power for cooking and lighting thus reducing pollution on the environment.
Participants were divided into groups to design various projects on how they can set up a bioenergy company that can manage wastes from communities in Malawi, collect, the technology required to process waste into fertilizer and biogas and create markets to sale the products.
The workshop was facilitated by NCST Chief Research Officer in Design, Engineering, Industrial and Energy, Mr Fred Munthali, Professor Kirk Semple from Lancaster University and Dr Akan Odon from Lancaster University.
Participants came from various organisations including: NCST, Total LandCare, LUANAR-Bunda, Environmental Industries, Our World International, Funani Organic Fertiliser Company and Department of Land Resources and Conservation (DLRC)