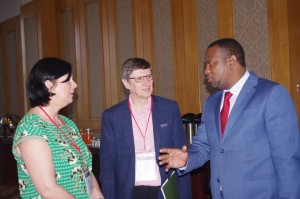 Delegates from the National Commission for Science and Technology (NCST), various institutions across Africa and the United Kingdom (UK), are in Malawi for a week long Recirculate Knowledge Exchange (KE) and Engagement capacity building training workshop at Bingu International Convention Centre (BICC) in Lilongwe from Monday 25th March to Friday 29th March, 2019.
The highly interactive and collaborative workshop is centred on working together and sharing solution driven innovative ideas which can be used to address the problems arising in our society. On the agenda are; understanding the value and concept of Eco-Innovation for solutions to  global challenges, Exploring motivations for and challenges in partnership working, Key mechanisms, barriers an opportunities for knowledge exchange.
Delegates are expected to use the knowledge and experience gained to become KE professionals who embed KE activities within their research organisations, businesses and community to push for change.
Following the training, delegates will be given an opportunity to apply for a limited 4-week residency at Lancaster University for further training and opportunities to pursue their own knowledge exchange interests.
Recirculate Knowledge Exchange and Engagement brings together researchers, users of research, communities and entrepreneurs to develop mutually beneficial partnerships, discuss and share ideas, evidence and expertise.
The 46 Participants are from Malawi, Zambia, Botswana, Nigeria, Kenya, Ghana Uganda and the United Kingdom.