CAPACITY BUILDING ON INFORMATION AND COMMUNICATION FOR AFRICAN COUNTRIES 2017
Malawi through  the National Commission for Science and Technology (NCST) participated int the 2017 Seminar on"Capacity Building on Information and Communication for African Countries" in Beijing China.  The Seminar was held at Academy for International Business Offices from the 6th  September to 26th September 2017. Zacheous Kantchowa;  an  ICT Officer from NCST represented Malawi at the  seminar which was  designed for Information and Communication Experts and other Government Officials who in one way or another are responsible with information generation, use ,storage, processing and dissemination.
Participants were drawn from ten African countries namely: Zambia, Malawi, Zimbabwe, Namibia, Ghana, The Gambia, Seychelles, Madagascar, Tanzania and Uganda and it had over 31 participants who were awarded with certificates at the end of the Seminar.
The Seminar was designed to:
To provide insight and understanding regarding key concepts on Information and Communication.

Review and discuss the various

 

ways in which ICT has benefited the Chinese nationals and how best their government is tapping into it

Discuss practical steps and ways in which

 

African countries can adopt ICTto their advantage

Appreciation of Chinese culture.
 Participants got to learn through materials prepared using the following methodologies  Lectures, Videos, discussions  and business trips and  some of the topics discussed learnt included the following
 

Initiative Connotation Interpretation of The BELT AND Road

China Broadband Project

 

China's Communication Industry Development Plan.
As for the business trips, the participants visited Huawei, Didi Infinite  Technology Development Company,China Railway 4 Bureaus Group Companies in the  Shenzhen and Heifer Provinces in order to  have a clear insight  of companies operations and companies.
 Participants had also the opportunity to have an appreciation of the Chinese culture through visits to historical places Such as the Great Wall; Anhui Provincial Museum;  Bird's Nest Stadium where the 2008 Olympics games were held and also through food and dance.

RUFORUM OUTSTANDING YOUNG SCIENTIST (OYS) AWARD
The National Commission for Science and Technology (NCST) in collaboration with RUFORUM is pleased to announce a Call for Applications for the national Outstanding Young Scientist (OYS) award.  RUFORUM OYS award is designed to recognize and celebrate extraordinary contributions of young scientists (<40 years). The award is sponsored by RUFORUM to recognize substantial achievement and encourage the important work of young scientists and increase public awareness of their accomplishments. The awards are be bestowed for a wide variety of achievements, directed to the practical applications of Agriculture, Science, Technology, Innovation or engineering.
RUFORUM OYS are conducted annually to recognize outstanding Young Scientists from the country hosting the Annual General Meeting which this year will be held from 25 to 27 October, 2017 at the Bingu International Conference Centre in Lilongwe, Malawi. The Annual General Meeting is being co-organised by the Government of Malawi and RUFORUM member Universities in Malawi i.e. Lilongwe University of Agriculture and Natural Resources (LUANAR), Malawi University of Science and Technology (MUST), Mzuzu University, and University of Malawi (UNIMA). 
To facilitate smooth selection process, deserving scientists are requested to complete a form accessible from the NCST website www.ncst.mw and submit to the heads of their respective institutes (Vice Chancellor, Principal, Centre Directors) as advised by the Institute/University. The Institute/University shall constitute panel of judges and nominate best candidates to be considered at national level.  The following allocations will apply; LUANAR, MZUNI and MUST shall each submit five (5); UNIMA-CHANCO, UNIMA-COM, UNIMA-Polytechnic and UNIMA-KCN shall each submit three (3) nominations; and the following institutions DARS, ARET, FISHERIES RESEARCH, TEA RESEARCH FOUNDATION, ARET, and FRIM and such other institutes shall have three (3) nominations each. 
Eligibility
To be eligible for the award the scientist must satisfy the following criteria:
Be Malawian nationals
Male or female young researchers no older than 40 years of age on 28th October 2017;
Have been instrumental in implementing a novel approach to solve problems
Overall, the ideal candidate must, through a combination of technical excellence, vision and leadership, have overcome obstacles to implement a novel solution that impacts people in a positive way.
How to apply
Applicants should complete and submit application forms to their institutional heads by Friday 29th September 2017, providing documentation suitable to demonstrate the depth, breadth, and impact of the work for which the nominator suggests recognition is appropriate, including reports, publications, project profiles, patents or etc. The application should be supported by letters from referees submitted on letterhead and include a description of the work for which the applicant's name is being submitted; identification of any awards or recognition received for that work; an explanation of the nature and quality of the applicant's work and its impact upon scientific research, the applicant's field, and/or the broader world; and the referee's relationship to the applicant. Download RUFORUM NCST OYS APPLICATION FORM Here
NOTE: The deadline for receiving nominations (from institutes/universities) is Wednesday 4th October, 2017. All late submissions will not be processed
Assessment
The National Commission for Science and Technology (NCST) will set up a scientific jury to assess and recommend the winners.
Prize
Two winners will be awarded USD1000 each and a certificate
For further enquiries, please contact us through the following address:
The Director General
National Commission for Science and Technology
Lingadzi House, City Centre
Private Bag B303
Lilongwe 3
Attention: Chief and Head of Technology Transfer (Mr. S.O. Mandala)
Email: smandala@ncst.mw
Tel: 01 771 550
Fax: 01 772431
The Malawi Public Policy Research and Analysis Project (MPPRAP), a project within the Ministry of Finance, Economic Planning and Development, presented a cheque of

Twenty Two Million Malawi Kwacha (K22,018,500.00) to the National Commission for Science and Technology (NCST) towards the cost of the 2017 National Research Dissemination Conference (NRDC). The cheque presentation was performed by the Secretary to Treasury (ST), Mr. Ben Botolo and was received on behalf of the NCST by the Secretary for Education, Science and Technology (SEST), Dr. Ken Ndala, and the NCST Board Chair Prof. Moses Kwapata.
The 2017 NRDC will be held from 27 – 29 September, 2017 at Sunbird Nkopola Lodge.
The 2017 NRDC which is being organized under the theme "Research and Innovation: A catalyst for Sustainable Development" aims at providing researchers and professionals a platform for disseminating their findings, exchanging contemporary knowledge and building partnerships and collaborations to advance research and innovation, thereby contributing to sustainable development. Specific conference objectives are to:
Promote uptake of research results
Provide a platform for researchers to showcase their research works
Enhance cooperation, collaboration, networking and partnerships
Facilitate evidence based policy decision making
Enhance scientific advances into marketable innovations
For more information on the 2017 NRDC, contact the Chief & Head of Technology Transfer, Mr. Symon Mandala by emailing smandala@ncst.mw or by calling on +2651771550 / +265999407291.
The National Commission for  Science and Technology (NCST) officially launched the preparation of the Malawi State of Science and Technology Report (2017/18), at LakeSide Hotel in Salima.
The meeting was convened to provide a platform for collection, sharing and review of administrative data which is under the custody of various institutions in the country including those which were represented at this workshop. The data will be used in the compilation of the second Biennial State of Science and Technology Report 2016/2017.
As a specialized Agency of government, responsible for promoting, coordinating and developing research, science, technology and innovation in Malawi, the National Commission for  Science and Technology (NCST) is mandated in terms Section 18 (j) of the Science and Technology Act, to prepare, every two years, a state of Science and Technology Report for
presentation to the National Assembly. The data is compiled in the State of S&T Report are important as they help in understanding the size and shape of the Malawi's R&D landscape and their use in system-level planning, monitoring and evaluation and policy formulation.
The BIENNIAL Science and Technology Report will provide information on how much contribution Malawi has made towards research and development and also takes stock of outputs the Science, Technology and Innovation System created during the reporting period.
The BIENNIAL Science and Technology Report has become a platform for NCST and its stakeholders to advise policy makers in terms of performance of the country's STI system which can drive industrialisation and development.
At internationl level, the S&T report is in line with the initiative of the New Partnership for Africa's Development (NEPAD) for Africa's Science and Technology Consolidated Plan of Action (CPA), which develops Science Technology and Innovation indicators for African countries launched in 2007. The CPA was adopted in 2005 by the African Ministerial Council on Science and Technology (AMCOST) as the framework for Science, Technology and Innovation to respond to the socio-economic challenges facing the continent. Malawi joined this initiative and as a country.
The State of S&T Report will provide the much needed information which Malawi is obligated under the SADC, AU/NEPAD and UNESCO protocols to submit to regional and international stakeholders for making cross-national comparisons.
Concerted efforts in development is a necessity if we are to achieve our aspirations as a nation. We need resources both financial and human if we are to achieve the targets in our development plans. In view of this realisation, the country's National Science and Technology Policy clearly spelt out minimum allocation to science and technology for the sector to make meaningful contribution to economic development as follows:
"In view of the important role Science and Technology plays in the development of economies, Malawi will under this national science and technology policy, allocate from public resources not less than 1 per cent of GDP to Research and Development and adequate funding to S&T activities by the year 2005"
However, based on the 2010 NEPAD Technology Outlook, Government only allocated approximately 0.17 percent of GDP to Research and Development. Although this figure may look small compared to what is obtaining in other countries, it is worth appreciating that Government remains the biggest funder of R&D in the country.
In view of the above, the DG appealed to the private sector and development partners to complement government effort in supporting "R&D. As a country our future rests in R&D including value addition. We cannot continue exporting primary goods because doing so is tantamount to exporting jobs which is very unhealthy when you consider the level of unemployment in the country. Surely, this unhealthy situation must be reversed if the county's economy is to be Technology-Led as espoused in Vision 2020".
The workshop represented an important milestone in our country's science, technology and innovation landscape and indeed in the history of our great Nation, as it will present the second comprehensive set of indicators based on the Research and Experimental Development (R&D)
The S&T report will indeed represent an important step towards strengthening Malawi's national system of Innovation.
The National Commission for Science and Technology in conjunction with International Service for the Acquisition of Agribiotech Applications (ISAAA) and the Programme for Biosafety Systems (PBS) organized a journalists' sensitization workshop which took place at the Livingstonia Beach Hotel in Salima on 20th and 21st November.
The workshop brought along 13 journalists from the main media houses of Malawi and it had the following objectives;
 Introduce participants to the basics of biotechnology and biosafety
Familiarize participants with the role of Malawi institutions in research and regulation of GMOs
Create awareness about the global, regional and national status of GMOs
Introduce participants to principles of effective biosafety communication
Equip participants with skills for identification of biosafety concerns, packaging and publishing of balanced stories on biotechnology
Facilitators in the workshop were scientists and researchers drawn from the Department of Agriculture Research Services, Lilongwe University of Agriculture and Natural Resources, the institution that is carrying out the Confined Field Trials for Bt Cotton and communication experts including Dr Margaret Karembu from ISAAA. Among the facilitators also was the Chairperson of the Cotton Development Trust who is also one of the farmers to have gone to Burkina Faso to witness the benefits of growing Bt Cotton there.
In his speech opening the workshop, the Director General of NCST Mr. Anthony Muyepa Phiri stressed on the importance and timeliness of this workshop saying there has been a lot of misinformation and fear mongering on GM crops and he believed this has been due to the lack of correct information on the part of the media and he said he was sure that at the end of those two days the right information will be inculcated to the media and that the issues of misreporting this technology will be a thing of the past.
The workshop approach was participatory and interactive with presentations, group works, practical sessions and the participants also had chance to conduct a DNA extraction so as to understand how genetic engineering ensues. The practical sessions allowed the participants to develop stories and by the end of the meeting the groups had frameworks of feasible stories.
The presentations were in three categories namely Biotechnology, biosafety and effective biotechnology and biosafety communication.
It is hoped that having done this sensitization workshop, the misinformation that has been common place when reporting issues to do with biotech crops will no longer be an issue.
INTRODUCTION
The National Commission for Science and Technology (NCST) in collaboration with the African Union (AU) and the Italy based World Academy of Sciences (AU-TWAS) implement an annual competition that aims at recognizing scientific excellence among researchers in Africa. The AU-TWAS young scientist competition targets young researchers that are below the age of 40 years by December of the receiving year. The competition is locally managed by the Technology Transfer Services Division of the National Commission for Science and Technology. Winners are identified under two categories which are:
Life and Earth Sciences; and

Basic Sciences, technology and innovation
Since its inception, Malawi has produced 10 winners in this competition. The previous recipients of the award are:
Professor Aggrey Ambali, currently working with NEPAD;

Professor John Chisi, currently working with the College of Medicine of the University of Malawi;

Dr. Kassam Daud, currently Senior Lecturer at Lilongwe University of Agriculture and Natural Resources (LUANAR);

Dr. Samson Mkali Sajidu, Senior Lecturer in Chemistry and Dean of Faculty of Science at Chancellor College;

Dr. Lawrence Kazembe, currently working with the University of Botswana;

Dr. Davies Mweta, currently at the Malawi University of Science and Technology (MUST);

Dr. Fanuel lampiao, currently working with the College of Medicine, University of Malawi;

Dr. Limangeni Alex Mankhambo of College of Medicine; and

Dr. Cosmo Ngongondo, Senior Lecturer, Chancellor College
2014 AU-TWAS Young Scientist National Award
The award presentation ceremony of the the 2014 AU-TWAS Young Scientist award, which was won by Dr. Maurice Monjerezi, a Senior Lecturer in Chemistry at Chancellor College, a constituent college of the University of Malawi, was held on Monday 20th October, 2014 at Kalikuti Hotel in Lilongwe.  
The presentation ceremony was presided over by Honourable Vincent Ghambi, MP., Deputy Minister of Education Science and Technology. Dr. Monjerezi received a cash prize of USD5000 and a Certificate for emerging victorious in the competition.
Statement by Guest of Honour, Vincent Ghambi, MP
In his remarks, the Deputy Minister emphasized the need for Malawi to embrace science and technology, citing countries that have tremendously transformed their economies largely due to meaningful investment in science, research and development. He reiterated government commitment in facilitating the development and application of science and technology. He then congratulated Dr. Maurice Monjerezi for emerging victorious in the competitive award. He encouraged him to continue working hard, and further challenged researchers in the country to take advantage of the political will and translate it into action. The Guest of Honour concluded his remarks by thanking the AU-TWAS for the beneficial partnership that exists between the Ministry through the NCST and hoped that this will continue for the benefit of the country.
Remarks by Anthony Muyepa-Phiri, Director General, NCST
In his remarks, the Director General, Mr. Anthony Muyepa, thanked government for the continued commitment in inculcating a science and technology culture in the country. He then congratulated Dr. Monjerezi and thanked the AU-TWAS for introducing the prestigious competition which he said is going along way in recognizing and encouraging research and development, thereby raising the strategic profile of science and technology in Malawi and all participating countries.
Pictorial focus of the award presentation ceremony
For further enquiries on the AU-TWAS Young Scientist National Award, please contact us as detailed below:
The Director General
National Commission for Science and Technology
First Floor,
Lingadzi House, City Centre
Private Bag B-303
Lilongwe 3
Malawi
Tel: +265 1771550
Fax: +265 1772431
Email: directorgeneral@ncst.mw
Attn: Mr. S.O. Mandala
Chief Technology Transfer Officer
Email: smandala@ncst.mw
Prof. Nakumula and Associate prof Mun'deranji Vestergaard  from the Japanese Advanced Institute for Science and Technology (JAIST) visited the National Commission for Science and Technology (NCST) on 9-11 September 2014 to discuss possible collaborative projects between the two institution.
The two instititions would like to apply for the Science and Technology Research Partnership for Sustainable Development (SATREPS) funding whose objective is to promote international joint research in which both Japanese research institutions and those from Malawi will work together based upon the social needs in the Malawi.
A number of research topics have been identified based on their potential impact on direct health and economic welfare needs for Malawi.
During the visit, the JAIST team also explored the possibility of  establishing educational collaboration with Malawian Universities: attracting students as well as establishing student exchanges and/or dual programs.
The NCST has been implementing the Programme for Biosafety Systems (PBS). This is a programme that is promoting the adoption and use of biotechnology in Malawi.
To enhance Malawi's future development and economic growth, the National Commission for Science and Technology is promoting biotechnology as one of the tools to address poverty, hunger and disease. To guide development and use of modern biotechnology in the country, NCST has facilitated development of the necessary legal and policy instruments such as:
Biotechnology and Biosafety Policy,
Genetically Modified Seed Import Procedure Manual,
Trials Managers Manual,
Inspectors Manual
and Malawi Guidelines on Biotechnology.
In line with the policy, Government approved the first application for Bt-cotton Confined Field Trial at Bunda College of Agriculture in October 2011, making Malawi among the very few countries in Africa and the world to conduct Confined Field Trials.
The government of Malawi signed the Cartagena Protocol on Biosafety in May 2000 and ratified it in 2009. In line with the requirements of the Protocol, the Malawian Parliament enacted the Biosafety Act in October 2002, which is administered by the Minister responsible for Environmental Affairs. The Act provides for an institutional framework for its operationalization consisting of the following:
National Biosafety Regulatory Committee
Reviewers
Inspectors
Biosafety Registrar
A national biotechnology and biosafety policy was approved by the Malawi Cabinet on 26th June 2008.
Among provisions in the Malawi biotechnology and biosafety policy is the delineation of roles and responsibilities at government level as well as at the R&D and other service delivery institutional levels. In the policy, the mandate for promoting and developing biotechnology in Malawi is vested in the National Commission for Science and Technology (NCST).
The NCST hosts the National Biotechnology Committee, which is responsible for promoting biotechnology, public awareness and coordination of biotechnology research and development.
On the other hand, the Department of Environmental Affairs (EAD) is responsible for regulation of biotechnology, which entails receiving and reviewing applications for activities with genetically modified organisms and issuing licenses or permits. The EAD hosts the National Biosafety Regulatory Committee (NBRC). In addition, there is a third set of public institutions that are
responsible for providing biosafety regulatory and enforcement services in the country. The mandate of these institutions is provided through regulatory provisions included in the various Acts that established them.
These include:
the Ministry of Agriculture and Food Security;
Ministry of Industry and Trade;
Ministry of Health;
Malawi Bureau of Standards;
Pharmacy and Medicines Board;
Pesticides Control Board;
Seed Services Unit;
Plant Protection Unit;
Ministry of Labour;
Fisheries Department;
Forestry Department;
National Herbarium and Botanic Gardens of Malawi;
Department of National Parks and Wildlife; Ministry of
Local Government;
Ministry of Women and Child Welfare;
and Malawi Investment Promotion Agency.
The Ministry of Agriculture and Food Security has also established its institutional biosafety committee (IBC) known as the Agricultural Biotechnology and Biosafety Committee (ABBC) which is technically and financially supported by the Ministry of Agriculture and Food Security.
Commencement of Insect-Resistant Cotton CFT in Malawi
In 2009, Bunda College of Agriculture of the University of Malawi through Professor Moses Kwapata submitted applications for confined field trials of insect resistant and herbicide tolerant cotton. The two applications for confined field trials (CFTs) for cotton (Gossypium hirsutum) with the events MON88913 (herbicide tolerant) and MON15985 (insect resistant) were submitted according to the provisions of the Malawi Biosafety Act #13 of 2002 and Biosafety Regulations, 2007, and the Malawi Biotechnology Guidelines, 2009; to the National Biosafety Regulatory Committee (NBRC) through the Biosafety Registrar.
In January 4, 2013, Malawi commenced CFT for cotton at Bunda College.
The first biotechnology crop was therefore planted in Lilongwe at the Lilongwe University for Agriculture and Natural Resources in January 2013.  After a successful trial, the trials have gone to a number of sites which are traditional cotton growing areas in Malawi namely, Salima, Chikwawa and Balaka and at Makoka Research Station in Zomba.
Identified Biosafety Needs and Gaps:
Areas that require ABNE intervention are:
Support to the NBRC in biosafety communication using the ABNE Biosafety Communication Manual.
Training of members of the Agricultural Biotechnology and Biosafety Committee (ABBC) as an agricultural technical group of experts to serve as a team of scientific safety reviewers and strengthen their capacity in risk assessments
Training of the Biosafety Registrar, institutional biosafety committee members and members of the NBRC for their roles and responsibilities as biosafety regulators
Training of inspectors for monitoring and compliance
Facilitating attendance of the Biosafety Registrar and members of the NBRC in a functional biosafety committee meeting of another country.
Why are Confined Field Trials needed?
The CFTs are needed to:
Restrict GM plant material to a specific area of research activities, the Trial Site.
Provide technology developers with the opportunity to evaluate the performance of genetically modified plants
Permit the production of sufficient quantities of plant material for use in livestock feeding trials and compositional analyses which are necessary for human food safety assessments
Provide an opportunity to collect the agronomic and ecological data required to complete the environmental safety assessment of the transgenic plant.
Provide an opportunity to evaluate the potential risks and benefits of cultivating the new crop.
Some key characteristics of Confined Field Trial
The key characteristics of CFTs include the following:
Restricted, but similar to field experiments done for conventional breeding;
Field experiments designed to evaluate the performance of GM plants;
It is done in the open field, thus exposing the plants to the general environment;
It is done on a small scale normally less than 1 hectare;
Performed under stringent terms and conditions that isolate the experimental material; and
Regenerated plants (volunteers) arising from the trials are destroyed after the test.

The Ethanol Driven Vehicle Project (EDVP) was initiated in 2006 after a cabinet directive in 2004 that Malawi should explore other sources of fuel for vehicles with the overall objective of contributing to economic development by promoting use of ethanol as an alternative energy source in vehicles. The project was first implemented by the then Department of Science and Technology under the Ministry of Education, Science and Technology and from July 2010 the project was taken over by the National Commission for Science and Technology (NCST). The project was implemented in collaboration with Lilongwe Technical College, Ethanol Company Limited, Malawi Energy Regulatory Authority, Plant and Vehicle Hire Organisation and Malawi Bureau of Standards. PVHO donated an old Mitsubishi Pajero to the project; ETHCO imported a flexi vehicle (Ford Ecosport) and the project bought three Nissan Tiidas.
By promoting use of ethanol as an alternative energy source in motor vehicles in Malawi, the research findings were aimed at contributing to energy self-sufficiency, national economic development and environmental protection. The use of locally produced ethanol could replace a certain proportion of petrol imported resulting in savings in foreign exchange and reduce the reliance on imported petroleum fuel. Ethanol produced from sugarcane molasses is classified as a renewable form of energy. The use of ethanol reduces emissions of greenhouse gases, carbon monoxide (CO), hydrocarbons (HC), sulphur dioxide (SO2) and particulate matter and ethanol is generally less toxic to handle than petroleum fuels.
Ethanol use as vehicle fuel as compared to petrol use is seen to have a net positive benefit/ cost impact on the economy of the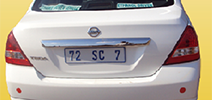 country. Ethanol use positively contribute to fuel price stability, reduce vehicle running costs, reduce foreign exchange requirements, help address challenges faced by the country due to reliance on imported fuels, growth of agriculture sector and poverty alleviation. Ethanol use negatively contributes to levies collected by Government and does not affect the cost of servicing petrol vehicles, transport costs and storage infrastructure. Ethanol use would therefore contribute to the overall economic development of the country through generation of employment, growth to the agriculture sector, saving of foreign exchange and reducing the reliance of imported petroleum fuels amongst others.
Total ethanol production for the country is 18 million litres per year.This quantity meetsthe current demand of ethanol use as vehicle fuel at a blending ratio of 10% ethanol and 90% petrol. This quantity is however inadequate to meet future ethanol requirements due to increased blending of ethanol with petrol, increased vehicle population and use flexi vehicles.
Existing structures that are used for storage, handling, transporting and marketing of petroleum products (petrol and diesel fuels) and petrol/ ethanol blends are capable of being used for storage, handling, transporting and marketing of increased ethanol/ petrol blends and pure ethanol