A Knowledge Society (KS) is economically revolutionary as it promotes the free flow and distribution of information and knowledge which is necessary for growth and innovation. This in turn, provides organizations not only with new market opportunities, but also stimulates cultural change and the ability to build learning organizations. (Quast, 2012). A KS values the creation, dissemination and effective use of knowledge, and has the institutions, infrastructure, norms, social interactions and culture that support it.  Its socioeconomic development is more dependent on and determined by knowledge rather than traditional factors of production such as land, capital and labour.
To graduate into a KS, focus must be placed on the interconnection between the knowledge structures and Information Communication Technologies (ICT) infrastructure through the three pillars namely; Education; ICT; and Science, Technology and Innovation (STI).
However this is not without challenges and how then can Malawi  address these challenges for us to move from an agriculture-based economy into a knowledge-based economy?
By and large, education presents opportunities for empowering people with knowledge, skills and confidence needed to shape a better future. A highly educated population is a crucial resource for building a KS.  We need to continue on a journey of lifelong and life wide learning which enables one to flexibly respond to change and pro-actively develop competences and thrive in collaborative learning and working environments. Education should not just be limited to formal education in traditional structures as is the case at the moment. We should encompass the broader societal learning which is necessary for development.
It is also common knowledge that STI plays a significant role in a country's economic development. STI is a key contributor to poverty reduction, health care, environmental conservation and development of the KS, through its ability to solve problems and initiate and sustain economic growth.
Actually, the difference in levels of development between developed and developing countries is mainly attributable to the difference in science and technology investment, and extent of generation and application between the two groups of countries.  It is based on this realization that the Malawi Government has embraced Science, Technology and Innovation as one of its nine development priorities. It is also on the same premise that Government established the National Commission for Science and Technology, and the Malawi University of Science and Technology (MUST), among other initiatives to facilitate a national innovation system that will enhance competitiveness.
However even though Malawi has a Science  and Technology policy, the innovation aspect is nonexistent so much so that innovations are being done without any guiding frameworks; a development that needs to be looked into.
There is also a need to create triple and multi helix relations for the industry and citizens to have a role to play in the national information system.
In relation to STI information dissemination, mechanisms that will curb STI illiteracy and also enhance a public understanding of STI issues without betraying the scientific truth should be promoted.
Furthermore, looking at the ICT pillar, how is Malawi fairing in ICT skills supply, are they adequate and sufficient? How about the regulatory frameworks including policies and legislations, are they relevant and complete? Is the infrastructure and communication platform which is integral in transforming Malawi to a KS adequate? Currently Malawi is a high consumer of foreign ICT products; it is high time that we developed an ICT research agenda which will provide a roadmap for conducting and eventually producing our own local ICT products. On the other hand, the fact that Malawi is connecting to the submarine cables in Tanzania and laying fibre optic cables to ensure affordable internet services is a good development for the emergence and sustainability of a KS.
All in all, the country has undertaken some strides in its journey towards a KS but still more we need to re-examine the Government's role in developing a KS; move from an information society and also train leaders by equipping them with 21st century skills if we are to transform the society into a fully-fledged KS.
NCST, on 12th November 2014, hosted an interactive IST-Africa H2020 Workshop focused on ICT-39 in Malawi. IST-Africa (http://www.ist-africa.org/) organised a series of Horizon 2020 Workshops in Malawi, Kenya, Ethiopia, Uganda and Burundi during November 2014, specifically focused on raising awareness of opportunities under the ICT-39 Call International partnership building in low and middle-income countries with a deadline of 14 April 2015.
National Commission for Science and Technology (NCST) as the partner in Malawi for the IST-Africa Initiative organised the IST-Africa Horizon 2020 Workshop in Lilongwe on 12 November 2014. All relevant stakeholders were invited to participate to raise awareness of the opportunity for research cooperation at international level.
The workshop was well attended with 28 participants from Computer Science Department, Chancellor College; Physics Department, Chancellor College; Polytechnic of Malawi; University of Malawi; Mzuzu University; Kamuzu College of Nursing; Lilongwe University of Agriculture and Natural Resources/Bunda; Bababo Health Trust; Malawi Institute of Management; Ministry of Finance; Malawi Communications Regulatory Authority (MACRA); eGovernment Department, Ministry of Information; National ICT Working Group; Department of Science and Technology; Research Department, Ministry of Health; National Library Service; Malawi Women in Technology; Mzuzu University – SL Project and National Commission for Science and Technology. Each organisation presented their current research capacity and areas of most interest for International Cooperation. This knowledge exchange at national level was very interesting for the participants as they were able to identify potential synergies in relation to future research.
Areas of thematic interest include Digital Repositories; eHealth, Health Informatics; eAgriculture; eGovernment; Security; White Spaces; Next generation networks; Wireless, mobile and cellular networks; Energy; Sensor Technology; Internet of Things; eSkills and eLearning / mLearning.
Anthony Muyepa, Director General, NCST formally opened the Workshop stating that NCST was very pleased to be hosting this workshop and recognising the excellent alignment between IST-Africa activities and the Commission's national mandate. Mr Muyepa encouraged the participants to take this opportunity to identify areas for research cooperation so that Malawi can leverage some of the experiences from Europe, adapted to the Malawi circumstances to assist in continuing to build capacity in research and innovation at national level.
Paul Cunningham (IIMC/IST-Africa) provided an overview of the IST-Africa Initiative and the significant resources that are available to support research cooperation. Paul highlighted that Malawi had secured over €3 million euro in research funding through 20 projects under FP7 and cooperated with more than 76 European and Associated Country organisations. This provides an important baseline for cooperation under Horizon 2020.
Gift Kadzamira (NCST) provided a comprehensive overview of Horizon 2020 and the main differences between FP7 and H2020. Paul Cunningham presented the ICT-39 call followed by interactive brainstorming and group work. Following an interactive discussion it was considered to be important to have multi-disciplinary teams involved and research priority areas identified for Malawi include eHealth, eAgricutlure, eLearning/eEducation, Digital Inclusion, eGovernment Services and Environment/Energy. Focusing on one thematic area the participants discussed how to identify key stakeholders that should be consulted, how to address end-user engagement and build an implementation team for inclusion within a wider consortia for International cooperation.
Ebony Msikawanthu (NCST) presented the participation rules and instruments under H2020 to provide a clear framework. Miriam Cunningham (IIMC/ IST-Africa) presented the steps to consider when preparing a proposal and associated budget. Miriam also outlined the evaluation process and basic IPR rules.
The participants found the workshop to be very stimulating and went back to their institutions with ideas to develop further. Download Full Workshop Report here
ICT-39 Focus Scope: The aim is to launch a set of targeted collaborative research projects addressing the requirements of end-user communities in developing countries. Specific technological targets could include for example co-design, adaptation, demonstration and validation (e.g. pilots) of ICT related research and innovation in relevant thematic areas addressed by Horizon 2020 including Content Technologies and Societal Challenges.
Activities under this objective should be led by a clearly defined user need/market opportunity for the technology being adapted; they should in particular include requirements of developing countries, and where possible, have the potential for wider impact by involving a number of countries from the same region. Proposals should be submitted by a complementary partnership with a particular focus on the participation of relevant developing country innovation stakeholders and end-user community representatives (e.g. relevant public, private, education and research, and societal sector organisations, Innovation Spaces and Living Labs).
Expected impact
• Development of relevant technology responding to specific needs and conditions of the target country.
• Reinforced international dimension of the ICT and Innovation aspects of Horizon 2020 and a higher level of                                                              International cooperation with low and middle income countries in ICT R&D and Innovation, focusing on areas                                                        that are beneficial to the target countries/region.
INVITATION FOR BIDS
Supply & Delivery of Materials for Wind & Solar Hybrid Energy System               
Procurement Reference number: NCST-RLEEP PROJECT/2014/ICB/G/001
The National Commission for Science and Technology has budgeted public funds under Rural Livelihoods and Economic Enhancement Programme (RLEEP) to be used for the procurement of the above referenced goods and now invites sealed bids from eligible bidders for the supply and delivery of Materials for Wind & Solar Hybrid Energy System.
Bidding will be conducted in accordance with the open tendering procedures contained in the Public Procurement Law and Regulations of the Government of the Republic of Malawiand is open to all bidders from Malawi and all eligible source countries.
Interested eligible bidders may obtain further information from National Commission for Science and Technology and inspect the bidding documents at the address given below at 6(a) from 08:30 hrs to 12:00 hrs and from 14:00 hrs to 16:00 hrs.
A complete set of Bidding Documents in English may be purchased by interested bidders on request to the address below at 6(b) and upon payment of a non-refundable feeof MK5000. The method of payment will be Cash or Bank Certified Cheque.
Bids must be delivered to the address below at 6(c) at or before 15:00 hrs, 26th January, 2015. All bids must be accompanied by a Bid security or Bid securing Declaration Form. Late bids shall be rejected. Bids will be opened in the presence of the bidders' representatives, who choose to attend at the address below at 6(d)at 15:00 hrs, 26th January, 2014.
6   (a)     Address documents may be inspected at:
Procurement Officer 
National Commission for Science and Technology
                  Off Robert Mugabe Crescent
                  1st Floor, Lingadzi House, Room No. 109
                  P/Bag B303
                  Lilongwe
(b)     Address documents will be issued from:
Financial Accountant
National Commission for Science and Technology
                  Off Robert Mugabe Crescent
                  1st Floor, Lingadzi House, Room No. 137
                  P/Bag B303
                  Lilongwe
(c)     Address Bids must be delivered to:
                  National Commission for Science and Technology
                  Off Robert Mugabe Crescent.
                  1st Floor, Lingadzi House, Reception, in the Tender Box.
                  P/Bag B303
                  Lilongwe
(d)          Address of Bid Opening:
 National Commission for Science and Technology
                  Off Robert Mugabe Crescent
                  1st Floor, Lingadzi House, Room No. Mini Conference.
                  P/Bag B303
                  Lilongwe
Download this advert on the link below
ADVERT FOR SOLAR-WIND HYBRID POWER SYSTEM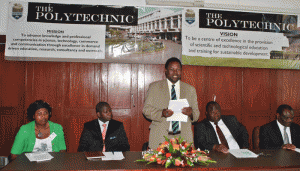 On 22th March 2013, NCST presented grants totalling US$ 2.6 Million (MK 1.1 Billion) to 10 Individuals and 5 Institutions carrying out research in health. This was made possible through a Health Research Capacity Strengthening Initiative (HRCSI) a programme within NCST with funding from Wellcome Trust and Department for International Development (DfID UK).
The funds are to assist the grantees to pursue health research as well as further education in health related disciplines. The funding was available in the following schemes schemes: Institutional grants, MSc Fellowships, PhD Bursaries and Internships.